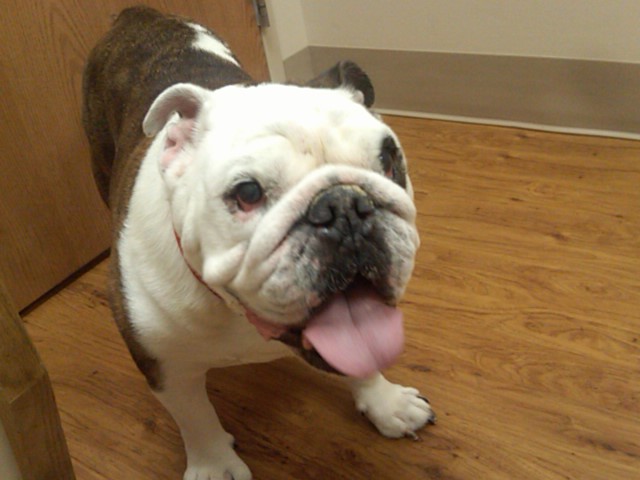 Our Bulldog Bruzer just completed 21 skills needed for requirements to become a certified Intermountain Therapy Animal. I am so proud of him, after all he is a bulldog and has a mind of his own. He is very friendly and always loving, and did I mention darn smart? We used to take him to work with us when we lived in Colorado, he would say hello to everyone grab a toy out of the conference room then head to my office. When I couldn't take him with me, he went with my husband to his office and acted as the customer greeter.
I found this therapy program through my work here at Danville Support Services. I brought Bruzer to work with me one day and Stephanie Strohl, our administrator, asked if me if Bruzer might want to become a therapy dog. He answered, "Yes."
According to Intermountain Therapy Animals, the use of animals to facilitate positive changes in a broad spectrum of therapeutic settings is becoming more accepted, appreciated and valued. Under direction of health services and education professionals, animal-assisted therapy can promote physical, emotional, cognitive, and social improvement for people with special needs.
In animal-assisted therapy programs, volunteer teams become formally involved in patient treatment regimens, helping motivate the achievement of a wide variety of goals and objectives. As those who share their lives with companion animals will attest, there are benefits that animals can provide that oftentimes people cannot. Research is now corroborating this conventional wisdom. We have witnessed some miraculous improvements during our animal-assisted therapy visits.
Bruzer is an awesome companion and at nine years old he still has a smile to share. Good dog! We love you Bruzer.
Please let us know if you'd like Bruzer to pay a therapy visit to your home.